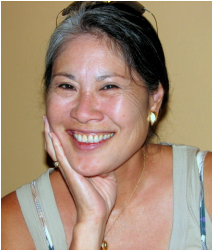 Letty was born raised in Los Angeles, CA, as a third generation (Sansei) Japanese-American. She has lived in the San Diego area for the past 34 years, and working as a licensed Marriage and Family Therapist (MFC22354), since 1986. She is grateful for the various factors and opportunities that have shaped her eclectic style of "unconditional positive regard" and culturally sensitive therapy.

Her love for travel, pursuit of creative avenues, cultural background, adopting rescue dogs, volunteering within her
community, and being a wife and mother have all contributed to her therapeutic approach today.

Her clinical experiences include, being a graduate fellow studying with the world renown theorist Carl Rogers, extensive chemical dependency training, as well as running an Adolescent Outpatient Treatment Program, a substance abuse diversion program for the Vista Unified School District, and heading up the Lifestyle Clinic for the CareUit, an inpatient chemical dependency hospital, and working at a community substance abuse clinic in El Cajon as a group and individual counselor. In addition, Mrs. Meskin has worked with the Intervention and Treatment Branch at Camp Pendleton, CA as a domestic violence clinician with the U.S. Marine Corps. Her strength and love are facilitating groups.

Presently, she enjoys working with couples in crisis, individuals in life transitions, Posttraumatic Stress Disorder, those experiencing depression and anxiety symptoms, and chronic pain issues. Treatment modalities used are goal-setting, cognitive-behavioral management, biofeedback, and teaching other methods of relaxation and stress reduction, like mindfulness meditation. An expression that she likes is, 'education is power.' She also strongly values the belief that each person walking through the door deserves equal respect.


---